GETTING STARTED & AROUND
You're going to be staying in Hong Kong for a while? Congratulations! Don't worry, everything will work out fine even if you don't plan every little detail in advance. The city is very sophisticated and well organised so it's easy to get around. You still want some information? Well, read this, the most important things you need to know to get started in Hong Kong.

For your quick reference:
Finding a place to stay
Public Transport
Telecommunication
Opening a Bank Account
Visa Requirements for the PR China
The Cost of Living
Tailor-Made Clothes
Sending stuff home by post

If you're a trainee and looking for a place to stay in Hong Kong you can contact German Industry and Commerce. One trainee there is usually in charge of the so-called "Trainee list" which is a Word document that is sent out to all the trainees who are staying in Hong Kong on a weekly basis. If you send an e-mail to TraineesHK@gmx.net you can place your ad there for free and - if you are lucky -someone will reply (the chance is actually pretty high).
Personally, I'd suggest to look for accommodation on Hong Kong Island or Kowloon and maybe the New Territories depending on where you are going to work but I wouldn't recommend Lamma Island (widely considered Hong Kong's "hippie island" with its laid back lifestyle). To get there and away you depend on the infrequent ferry service (1 to 2 ferries per hour).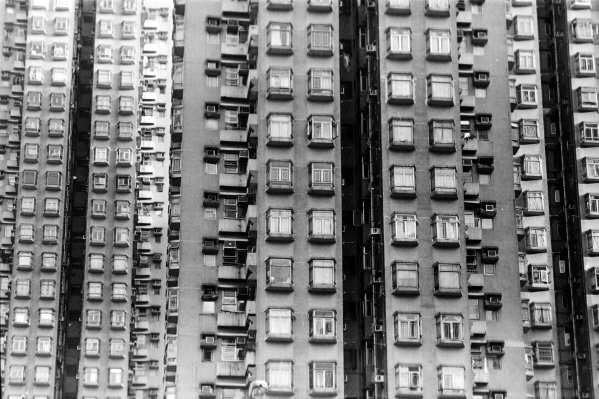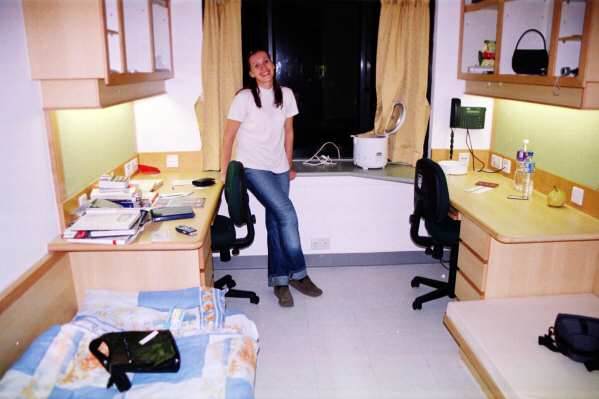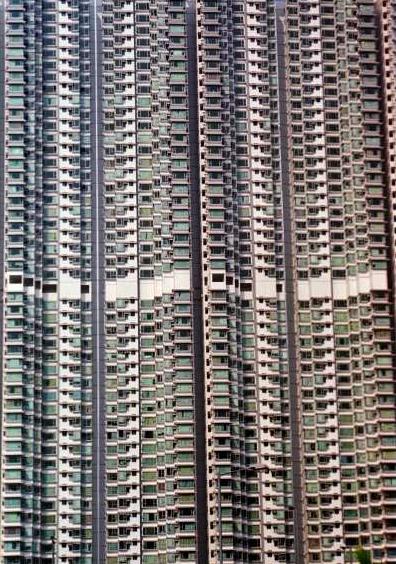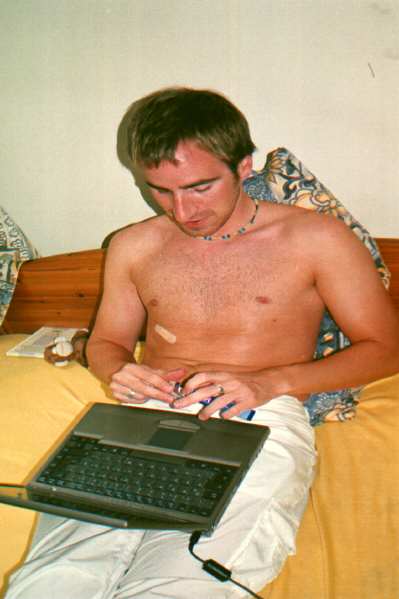 Student halls of residence

The student halls of residence of the Poly University in Kowloon are generally a good place to live as the price of HK$ 3000 for a single room all inclusive except air con (~HK$ 70) is unbeatable. Plus, it offers access to a pool, a fitness room, a computer pool etc. If you are interested in that kind of accommodation, contact either of the following two people:
Dr. Simon Leung
Warden Office Tel.:(852) 3159 0568
Campus Office Tel.:(852) 2766 7058
Prof. Thomas Wong
Warden Office Tel.: (852) 3159 0718
Campus Office Tel.: (852) 2766 6398
On the university's webpage www.polyu.edu.hk/hall ("Non-Local Students") you can apply online and have a virtual look around.
Scarlet's apartments

Another alternative for German trainees are the apartments of Scarlet and her sister Wendy (HK$ 3500 to 4200 plus water, electricity, gas for a 6 qm² room in a shared flat). Although you might find apartments for a little less they are still an acceptable option as they are fully furnished , meet the needs of trainees (internet access, phone line, microwave, TV, DVD) and are all very centrally located in Causeway Bay and Tin Hau on Hong Kong Island. All the apartments are shared flats for two to three trainees, usually all from Germany. If you're interested you can contact Scarlet, the landlady, of the flats. (cf. to "the apartment" - section for more information)

http://www.gohome.com.hk/english/home.asp?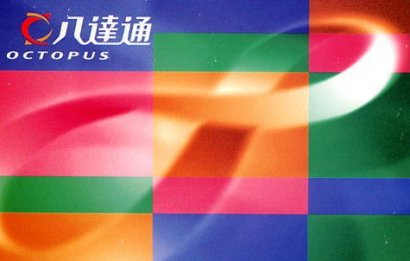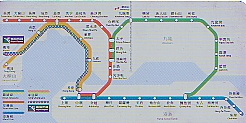 Octopus card

Once you have arrived at Chek Lap Kok, Hong Kong's international airport, you should immediately buy the Octopus card for HK$ 150 (HK$ 100 credit plus HK$ 50 deposit which you get back when you return the card at the end of your stay). The Octopus card is a magnetic card which you can use to pay for all means of public transport such as the subway (MTR), the bus, the mini bus, the KCR, the tram or the ferries but it is also accepted as a sort of credit card in an increasing number of shops, cinemas and restaurants such as 7 Eleven, Park'n'Shop or McDonalds. By using the Octopus card you enjoy a discount of ten per cent on each ride and if you use the Octopus card ten times on any of the MTR lines within a week you can pick up a free ticket at the station guard's office. In order to pay you simply have to touch the Octopus card on the Octopus fare deducting processor at any entry and exit gate in the MTR station. The best thing: the card also works if it is inside a wallet or bag.
Student Octopus card
The Student Octopus card is officially only issued to Hong Kong students but you should definetely try to get the student card if you have an international student identity card as not every MTR employee seems to be aware of this. The Student Octopus card allows you to get a 50 per cent discount on MTR lines. But beware: there are controllers and officially only Hong Kong students are eligible for the card.
The airport: Getting there and away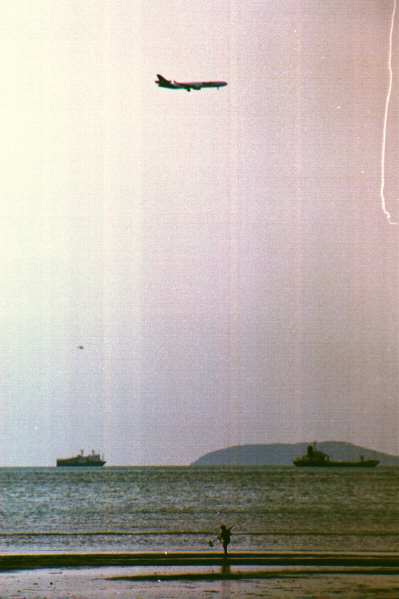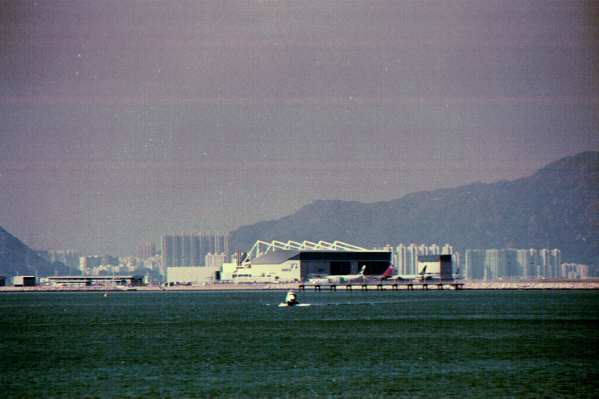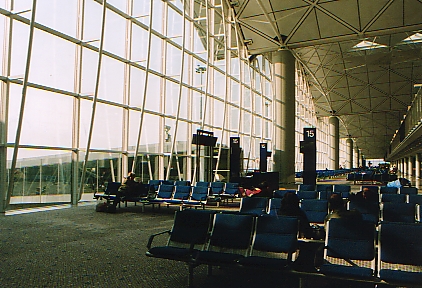 To get from airport to town you have four options: the cheap option, the cost-conscious-yet-comfortable option, the fast option and the luxurious option.

The cheap way:
Go to the bus stop at the airport and look out for bus No. S1 to Tung Chung. The bus departs from a small stop a little to the right of the central bus terminal. Tung Chung is the last stop and the trip will cost you HK $ 3,5. When you disembark go straight to the Tung Chung MTR station where you can take the Tung Chung line to Central (HK $ 21).
The cost-conscious-yet-comfortable way:
Take the Airbus. Go to the bus stop at the airport and look out for your respective bus number on the timetable. Bus No. A 11, for instance, will take you to Victoria Park on Hong Kong Island for HK$ 40.
The fast way:
Take the Airport Express for HK$ 100 to get to Central Station in 23 minutes with only two stops along the way (Tsing Yi HK$ 60 and Kowloon HK$ 90). The Airport Express operates from 5:50 am to 1:15 am daily. If you take the Airport Express from Central to the airport you can benefit from the free in-town-check in Central and Kowloon in the morning of your departure date. So you can still enjoy your last day without worrying about your luggage.
The luxurious way:
Of course you can also take a taxi. This should cost you around HK$ 330.
MTR

The MTR is the abbreviation of Mass Transit Rail and more than two million people from Hong Kong use the the subway on a daily basis. In my view, the MTR is the most efficient and well-organised means of public transport I have used to date. The five lines cover the main areas of Hong Kong, i.e. Hong Kong Island, Kowloon, the New Territories and Lantau Island. Everything is well sign-posted in both English and Cantonese and train announcements are made in Cantonese, Chinese and English. The fares are inexpensive and range from HK$ 4 to HK$ 26, depending on the distance you have travelled. On their website, MTR Corp offers the Journeyplanner which allows you to calculate the exact cost and the time to your desired destination. During rush hour, the next train arrives just after the previous one has left the station, at other times, you have to wait for about two to five minutes. The only negative thing is that there is no extensive night service, the MTR operates between 6 am and 1 am only- even on weekends (check the timetable at the entrance to the MTR station). But there are of course other means of public transport that operate at night.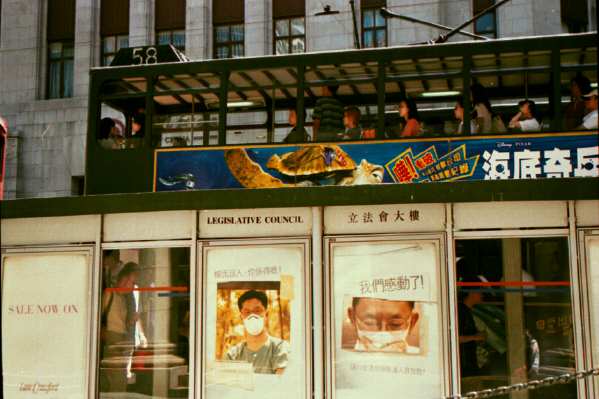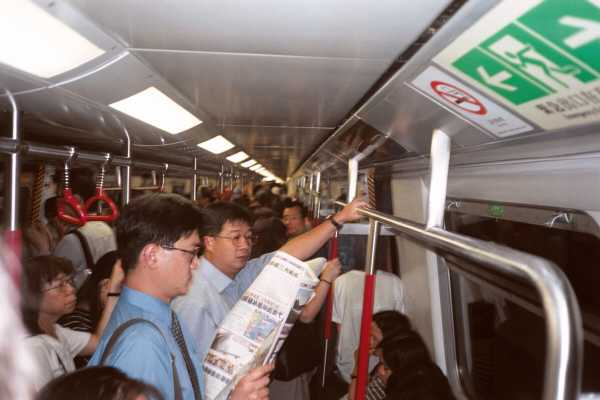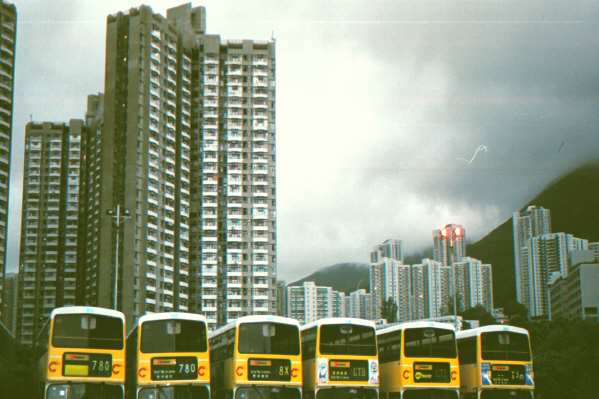 Bus

If the MTR doesn't take you to your desired destination then one of the many different bus lines will probably take you there. The bus service is a little confusing at first as there are a substantial number of lines. Sometimes a bus number is preceded by the letters X, R, M or K. In that case X stands for express service, R for recreation service (this bus operates only on Sundays and public holidays), M and K lines stop at MTR and KCR stations, and N lines offer their services at night. In contrast to the MTR, the price is dependent on where you enter the bus and not on where you are going. Usually you pay by using your Octopus card upon entering the bus. If you prefer paying with cash, make sure you have the fair amount as no change will be returned. The timetable at the bus stop indicates the price and all the stops along the route of the bus. No student discount.
Mini bus

Minibuses are 16-passenger, cream-coloured vans differentiated by a red or green roof and stripe. The green minibuses operate on fixed routes and you have to pay upon entering the bus whereas the red minibuses may use varying routes and you have to pay upon leaving the bus, depending on the distance you have travelled. The destination and the price is usually signposted at the front window, but not necessarily in English.
Tram

The Hong Kong trams were established in 1904 and run along Hong Kong Island's northern shoreline from Kennedy Town to Shau Kei Wan, with a side loop around Happy Valley racecourse. The trams operate daily 6 am to 1 am and can be crowded during rush hour. No matter how far you travel, the fare is HK$ 2 (concessionary HK$ 1) and has to be paid upon alighting.
Ferry

The legendary "Star Ferry" shuttles across Victoria Harbour every 4 to 10 minutes between Central and Tsim Sha Tsui (6:30 am to 11:30 pm). The service began in 1898 and the eight minute cross-harbour voyage still offers a great view for just HK$ 2.20 on the upper deck and HK$ 1.70 on the lower deck. Other routes connect Central with Hung Hom and Wan Chai with TST and Hung Hom.
The outlying island ferries offer an extensive range of routes to the Outlying Islands and New Territories. One way fares to the four major islands (Cheung Chau, Lamma, Lantau and Peng Chau) cost from HK$10 on weekdays to HK $ 31 during weekends. Journeys to most islands take about an hour or less and depart at Ferry Pier in Central. You can also use your Octopus Card there.
To get to Macau take the high-speed ferry that leaves at Macau Ferry Terminal in Sheung Wan.
KCR

Die Kowloon Canton Railway is comparable to the German S-Bahn. It operates between Kowloon and Lo Wu at the border to Shenzhen. In addition to normal trains there are also fast trains that stop less frequently.
Taxi

Last but not least, you can also use a taxi. In Hong Kong there are four different types of taxis: the red ones operate on Hong Kong Island and/or in Kowloon, the green taxis cover the New Territories and the blue ones operate on Lantau Island. You can use one and the same taxi to travel from Hong Kong Island to Kowloon or vice versa, but to get to the New Territories or Lantau you have to switch taxis. The fare depends on the meter and is relatively inexpensive. The drivers are very trustworthy so there's none of the hassle you experience in Mainland China. Note:Taxis are not allowed to stop when there is a yellow line by the curb and not all drivers speak English.


Telecommunication

Mobile phones

Hong Kong is said to have the highest density of mobile phones in the world and you will hardly meet a Hong Kong residient who does not own a mobile phone. The reception is excellent, even if you're taking the MTR beneath the harbour or are hiking in remote and uninhabited areas of Hong Kong. In general, German mobile phones work in Hong Kong, so take yours along. To get a mobile phone contract you have to obtain the Hong Kong ID card, for which you have to stay in Hong Kong for a minimum of 180 days, i.e. 6 months. (in that case go to the Immigration Tower in Wan Chai (next to Central Plaza)). If this does not apply to you, you can buy pre-paid cards from one of the three most common mobile network operators: Orange, Sunday or SmarTone. You can find their shops almost anywhere. By the way, in Hong Kong, both the caller and the one who receives the phone call are charged.
Phone line

Most flats have a phone line. Calls within Hong Kong are always free of charge, even if you make a phone call to a mobile phone. To call to Germany you have to dial 0060 49 + area code without 0 + phone number. As a result of the liberalisation of the German telecommunications market, however, it is cheaper to call from Germany (dial 00 852 + phone number). On www.billiger-telefonieren.de you can compare the cost of different phone operators. Unfortunately many of the cheap providers offer a bad connection which may even be cut off during a conversation.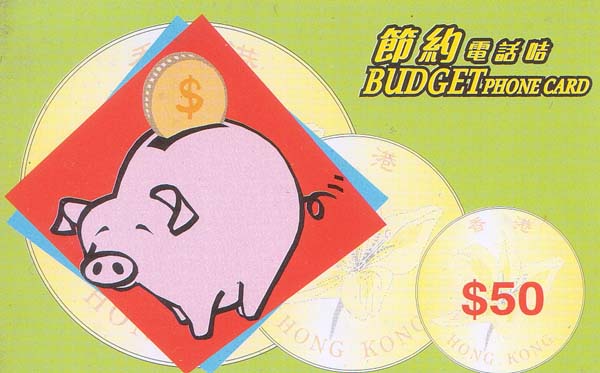 For international calls from Hong Kong to Germany you should buy the "Schweinchenkarte" (that's how the German trainees call it), It is a phone card that displays a pig. The connection is excellent and for HK$ 100 you have 3 hours and 8 minutes (for HK$ 50 1h34min) to Germany. You can also use the phone card from your mobile phone but that's of course more expensive. In Tsim Sha Tsui there is a small phone shop which sells the HK$ 100- phone card for just HK$ 80 and the HK$ 50 phone card for HK$ 40. If you are at Salisbury/Nathan Rd continue on Nathan road and turn right the first road behind the Sheraton Hotel. On your left hand side you can find a small shop where the phone cards are displayed at the entrance.
Phone booths

If you have neither a mobile phone nor a phone line you can make local calls from public coin telephones which cost HK$ 1 per five minutes. As calls from phone lines are free of charge most shops or restaurants will probably allow you to use their phone if you ask them politely.
As a trainee in Hong Kong you will probably get a remuneration of some sort, usually a cheque. Therefore you have to open a bank account. I went to HSBC and never regretted that decision as HSBC has many ATMs all across town. Yet I heard from a friend that it's good to open a Citibank account if you want to transfer money from Germany to Hong Kong as this is free of charge there. When you open the account remember to bring your passport and your work contract.

Visas for the People's Republic of China
Even though Hong Kong has been returned to China in 1997 there are still passport controls at the border between Hong Kong and Shenzhen. As a result you still have to obtain a special visa for entering the PR China. The cost for a single entry visa for EU citizens is HK$ 190. If you plan to make more trips to the PRC you should consider buying a multiple entry visa for either six months (HK$ 470) or one year (HK$ 850). These are available at China Visa, Rm. 703 Albion Plaza, No 2-6, Granville Road, Tsim Sha Tsui, Kowloon, phone (852) 3525 0732. Bring your passport and two passport photos.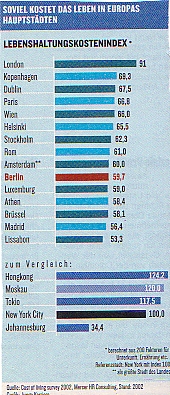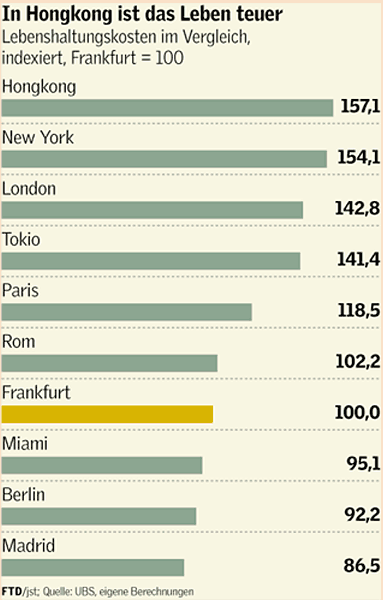 Junge Karriere, July 2002 Financial Times Deutschland, October 2003
Hong Kong is one of the most expensive places on this planet and this is largely due to lack of space and subsequent high rents. Also expect to pay a fortune if you want to keep up a Western lifestyle. A small piece of Gouda cheese can easily cost HK$ 120, a liter of milk costs HK$ 24, a cheese pizza HK$ 120. Nightlife is also comparably expensive. A beer in a bar costs HK$ 60 but you can save some money if you make use of the happy hours or leave the bar for the nearest 7 Eleven convenient store.

Regardless of how expensive Hong Kong is in many ways, you can still make incredible bargains as well. If you consider buying new glasses, wait until you get to Hong Kong. They are considerably cheaper over there as are clothes and shoes. (no large sizes available though!) But think twice before buying electronics. My impression was that all the trainees were buying all the latest technical gadgets like lemmings, assuming that they are cheaper over there. I would advise everyone to compare prices with German retail chains such as Saturn or Media Markt beforehand. Frequently, the products are in fact cheaper in Germany, plus you get a German guarantee on the products. Notebooks and related products are available at the Wanchai Computer Centre in 130 Hennesey Road (Above the Wan Chai MTR station), the Computer Consultants Centre in 311 Gloucester Rd (10th to 12th floor) in Causeway Bay, the Golden Computer Centre (above the Shamshuipo MTR station) or the Mongkok Computer Centre in 8- 8A Nelson Street.
Tailor-Made Clothes

To buy tailor-made clothes Hong Kong is a great place. In Tsim Sha Tsui there is virtually one tailor next to the other, usually all from India or Pakistan. They can become quite a nuisance as they always try to persuade you to buy a suit when you pass their shops. Tailors in the streets off Nathan Rd are usually cheaper. Bargain hard (50 % or more) and ask them to write down the agreed price on a piece of paper if you want to avoid hearing "Oh no, we can not possibly have offered you this price the last time, we don't make any money" the next time you enter their shop. Personally, I can recommend "Modell Fashions", 10 Humphrey's Ave, TST, Kowloon. Remember: Bargain hard.

Sending Stuff Home By Post
If you are staying in Hong Kong for a while you will probably end up with more than you had in the beginning. As all airlines charge a rather hefty excess weight fee you are left with the other option to send your stuff home by Hong Kong Post. If you decide to do so you have two alternatives: airmail (faster and more expensive) or surface mail (6 to 8 weeks). The maximum weight of 30 kg per parcel, for instance, costs 1980 HK$ to Germany by airmail and 508 HK$ by surface mail. (Check out the Hong Kong Post Calculator)

General Post Office
2 Connaught Place
Central
Mo - Fri: 8:00am-6:00pm
Sat: 8:00am-6:00pm

If you have any further suggestions or questions feel free to contact me!
------
Links:
German Auswärtiges Amt on Hong Kong
The Economist: Insider Tips Hong Kong
Working in Hong Kong.com
Hong Kong Forum bei Shanghai.com, der deutschsprachigen China-Plattform
Telephone Directory Inquiries
Hong Kong Map
60 Signs You Have Lived in Hong Kong for Too Long
Hong Kong Festivals & Holidays
The Meaning of MTR Names
LoveHKFilm.com